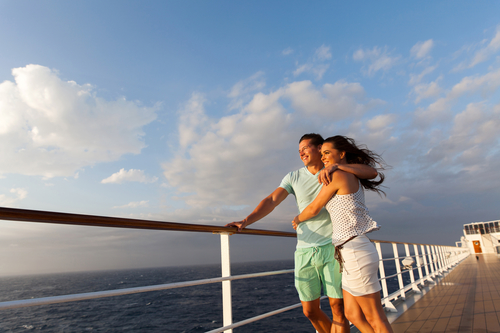 If you've never taken a Caribbean cruise during your holidays, the amount of choice they offer might seem a little overwhelming at first. Imagine someone combined a great hotel, a theme park and a theatre, and then made it travel around the world, stopping at various amazing destinations. For couples or families looking for a way to make the most out of their vacations without having to personally plan all the details of the trip, cruises are definitely an attractive option. Each cruise offers unique opportunities so be sure to be fully prepared before going on your trip.
Here are a few tips that we've put together to help you maximize your fun on your Caribbean cruise during your holidays:
Eat, drink and be merry!
One of the easiest ways to customize your cruise experience is to take advantage of all the food and drink options available to you. Here are just a few tips on how to navigate all your choices:
Most cruise lines let you bring a few bottles of your own wine or champagne on board without a corking fee, which will help you save a little money.
You can usually take cocktails from area to area so you can plan ahead and always be one step ahead of the crowd.
Buffets are a great way to try new foods while making sure you can still get what you like. This is your chance to try something new!
Break up your routine with specialty dining options. They cost a little more but are still a lot less than a comparable meal on land. Cruise lines such as Carnival offer rotating menus of guest favourites.
Research how much you're allowed to order during regular meals. Often, you can order and share several appetizers or entrees. It's a great opportunity to try new things with your entourage or to make new friends aboard.
Although you may have to pay for brand-name ice cream, the ship's soft-serve is often free.
Order room service whenever you can—it's free most of the time.
Entertainment secrets
Sometimes people don't show up for reservations they've made for free shows, allowing you to snag their place if you're quick.
Reserve places for can't-miss events early. Places go fast if the show is free.
Bring walkie-talkies so your group can do different activities but stay in contact (cell phones don't work at sea).
What to do when you call at a port
Only do the activities you can't miss, stay on the boat otherwise. The ships activities are usually crowd-free when docked at a port.
Purchase shore excursions in advance so you can plan the rest of your time effectively.
Be mindful when doing activities that aren't arranged through the cruise—you don't want to miscalculate your time and miss the boat.
With Beforeifly, we are your very own online travel concierge that can help with all your arrangements for your next Caribbean cruise. Your holidays will be easy to manage using the Beforeifly app, which consolidates all your booking information in a single place. Contact us today to find out more about the Beforeifly difference and how we can help you maximize your fun the next time you leave Canada!