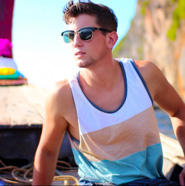 We sat down with the one and only Canadian travel vlogger Christian LeBlanc from Lost LeBlanc for a one on one Q&A to answer some of your most burning travel questions. Check out what he had to say and get ready for your next destination!
What should every traveller invest in?
A good backpack or suitcase is easily the best investment a traveller can make. Imagine being in the middle of morocco and your backpack rips while traversing through a desert. Or rushing to your flight at the airport and all of a sudden your suitcase zipper gives out! It's always a good idea to make sure your luggage is good quality because if it fails you, it could be a huge headache!

What are your packing tips/hacks?
The way I pack totally depends on where I'm traveling to. If I'm going to a hot and affordable country, I underpack because you don't need layers and you will end up buying clothing there for a fraction of the cost. When I travel to colder and more expensive countries, I pack with the intention of not needing to buy anything there. I also like to pack a cloth drawstring bag because they are great for carrying essential on a day trip because they easily fit inside your luggage and take up almost no room!

How do you go about doing the research the destination that you will be visiting?
Most of the time I just type the name of the location into Google and very quickly I start seeing what will be some of the main tourist destinations. I like to visit the popular attractions because often they are truly some of the best parts of that destination, however, my favourite part is discovering the lesser known spots. To do this, I often just show up in a destination and begin talking with other travelers and locals. Sometimes I even just rent a vehicle and start driving with no direction in mind. A lot of my best adventures have just come from a 50cc scooter and a good coat of UV 30 sunblock. Traveling with a flexible schedule often allows me to visit both the popular and the hidden gems.

Best beach that you have visited?
There are two things I look for in a beach. The first is the natural beauty. My favourite beaches have clear blue water, soft sand and sometimes even nearby mountains. The second thing I hope for is privacy! I love beaches where you feel like you are one of the few lucky people to witness it.The best beach I have visited to date is Nacpan beach in the Philippines. I truly have never seen such a beautiful undiscovered beach. When I visited Nacpan nearly 1 year ago, there was nobody else there aside from a few locals. I ended up renting the only bungalow on the entire beach that night and that night I watched what was easily the best sunset of my entire life.

Favourite city that you have visited?
I don't have a favourite city because each city offers something different. I would say Paris is the most beautiful city I have ever seen. Vancouver (my home) is one of the most liveable cities I have ever been to. But if I had to choose one to live in today while I'm young and looking to explore, I would choose Canggu, Bali. Canggu is a fun, young and laid back city. It is located right next to a couple decent beaches and it's filled with travelers from around the world. There are many great coffee shops, fitness facilities and so much more. I'm planning to move there in January!
Book Your Next Adventure with Beforeifly
Whether you're taking a weeklong vacation from the corporate hustle or planning to embark on a once-in-a-lifetime backpacking trip with no set return date, talk to our friendly staff of Beforeifly agents. We are ready to help you plan the trip of your dreams and assist the customization of your plans. From advice on right kind of travel insurance to which airline offers the best rates, our knowledgeable travel experts are here to deliver a world-glass customer experience that lets you enjoy your trip.
Contact us today to speak with a live agent today!