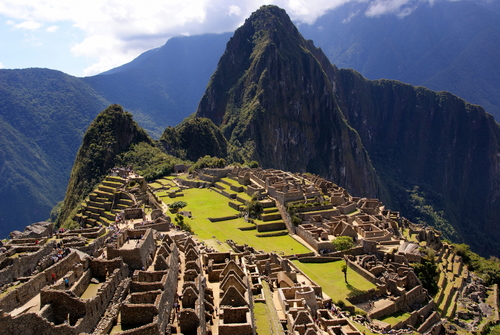 You wouldn't necessarily think of Peru as the place to go when travelling on a budget, but if you're dedicated to do the appropriate research and planning, this country can be a very affordable destination. Our travel experts can help you find many low-cost travel options that'll fit your budget and give you the opportunity to fulfill your dream of travelling to Peru.
Eat where the locals do
Eating at fancy restaurants while traveling abroad–particularly ones that cater mainly to tourists–is one way to put a major dent in your wallet. The best thing to do when it comes to food is to eat at restaurants that are frequented by the locals. Chances are the food will be authentic and delicious, and you'll get far more bang for your buck. Like many cities, there will be carts serving local street food on many corners. Stop by and try some traditional Anticuchos, a simple yet delicious staple of the local diet which quite literally is meat and potatoes served on a stick. From Peruvian tamales to sandwiches, finding food vendors on the go while exploring will be a great way to save money and immersed yourself in the culture.
Travel by bus
While domestic flights are an option when travelling long distances within Peru, you'll find that buses are more affordable. Be advised to not take the cheapest buses available, as they can be potentially dangerous. Opt for mid-range or high-end buses that will still cost much less than a plane ticket.
Negotiate prices
Don't be afraid to haggle! If you think a price is too high, whether it's for goods in a traditional market, for your room at a hotel or for your taxi fare, try to talk it down to something more reasonable. This is a common practice in Peru and the worst that can happen is that your request will be denied.
Visiting Machu Picchu
Peru's most popular tourist destination is one you won't want to miss. Pay a visit to Machu Picchu and be rewarded with a rich cultural and historic experience. New rules have been implemented to help maintain the integrity of the site, one of them being that you must either purchase a morning or afternoon pass. If you wish to spend the entire day, you'll have to buy both, meaning that you'll spend double the money. If Machu Picchu is meant to be the highlight of your trip, you may want to pay to spend the day and then be mindful of your finances for the remainder of the vacation, but if you plan on taking part in many other activities while in Peru, opt for either a morning or afternoon pass to save money.  
Book Your Vacation with Beforeifly
Need to stick to your budget when travelling? Here at Beforeifly, we'll help you plan low-cost vacations ensuring that you have the adventure of a lifetime without breaking the bank. Contact us here, or visit us at our travel centre to book your next vacation today!