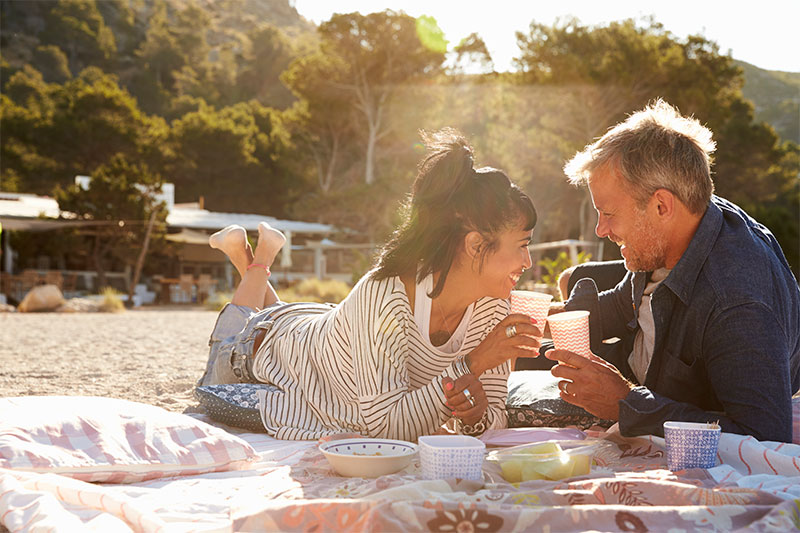 Couples that are able to travel together enjoy many benefits in their relationship. Studies show that travelling not only rebuilds relationships but sparks romance and intimacy as well. Being able to connect without the noise and interruptions of everyday life while in a beautiful relaxing setting can do wonders for the soul. Whether you're hoping to rekindle the magic of your relationship, pop the question or just relax with the one you love, planning a romantic getaway is a great way to celebrate your relationship. Creating a truly relaxing and memorable experience, however, requires some planning. Here are four essential steps to planning the perfect romantic getaway:
Step 1: Plan Your Budget
It's probably the least romantic part of the process so get it out of the way well before the fun stuff. Having a clear budget will help you with all the subsequent steps and keep your mind off of finances when you're on vacation. If you know that you're the kind of couple that likes to regularly take trips, you might even consider opening a dedicated bank account for savings toward a weekend shopping spree in Paris or even booking an all-inclusive vacation to escape the woes of winter in Canada for some quality time with your loved one.
Step 2: Plan Your Main Events
Some people like to surprise their partner with a romantic vacation. Depending on your personalities, some couples like trips to be surprises—others wouldn't appreciate decisions being made by only one partner. Whichever kind of couple you are in, be sure to thoroughly research the main events of your trip well in advance. The "main events" should be the things at your destination that you absolutely can't miss and have a special meaning for your relationship. They can be big (local festivals, monuments, historic sites, etc.) or small (a favourite restaurant, a beach you've been to before, etc.) but should help you celebrate who you are together.
Online travel booking can be a great help with this step as many reservations can be made well in advance and tracked to be sure nothing goes wrong before you've even left for your destination.
Step 3: Plan to Improvise
One mistake a lot of people make is to overload their schedules to try to make the most of their vacation. If you're constantly running from event to event, however, you'll be spending more time worrying about reaching destinations than enjoying them. Having one or two main events per day is often enough. Between them you have room to do whatever you feel like that day.
Don't feel guilty about doing what you like on vacation, including throwing out plans if they are less appealing than they were when you planned them. If your partner just wants to spend the day in the hotel room—be spontaneous! It can be a way to make great memories as well.
Step 4: Unplug and have fun!
It's tough to do these days but consider putting all of your electronic devices in the hotel safe once you've arrived at your destination. Your romantic vacation should be about you, not the stresses you've left behind.
If you've got the budget but need some ideas, call our agents to get some inspiration and for the best recommendations for planning your vacation! As your online travel concierge, we ensure all the complicated details of your romantic trip can be consolidated in a single, easy to read source with our app. If you're ready to take the romance one step further and book an all-inclusive wedding or honeymoon, don't hesitate to contact Beforeifly today! We offer low-cost flights and no booking fees with our entry guarantee. Contact us today to find out more.