When one thinks of Greece, they imagine islands with small villages consisting of white stucco homes with bright blue rooftops, beautiful crystal-clear, white sandy beaches and an exotic climate anyone could fall in love with. Summer in Greece is obviously breathtaking but their winter is even more spectacular, and a season a frequent tourist of Greece should never miss!
Greece is famous for its mountainous landscape and a little dusting of snow makes for the picture-perfect view for locals or first-time visitors to Greece. Northern Greece is by the far the most adventurous and magical part of the country during the winter months and Beforeifly gives you a list of the top three must-see places!
1) Agios Athanasios Pellas
Agios Athanasios is an old village located in the Pella Regional Unit of Macedonia, Greece and was built in the late 16th Century at an altitude of 1200 metres.
This fairytale-like village offers a traditional experience with a modern twist.  Visitors can expect to find local and original architecture, cobblestone roads, and sloping rooftops.
Agios Athanasios is also known to have ancient treasures, Macedonian tombs, and jewelry, buried throughout the town.
Whether you're a ski enthusiast or foodie, Agios Athanasios caters to all personalities and tastes and has one of the most state-of-art ski resorts in all of Greece, called the Kaimaktsalan.
Hidden Gems: Wetland Agra-Vryton-Nisiou, the Archangel of Mt. Paiko, the little church of Profitis Ilias.
Where to Stay: Siantis Guesthouse
Where to Dine: The Hut Tavern, Tsegani, Tavern Katafigio.
2) Arachova
Arachova, is also known as the "Queen of Winter" and offers visitors the ultimate winter escape.  It is a unique mountain village, which was built on the slope of the Paranassos Mountain, at an altitude of 950 metres.
It is considered one of the most glamorous winter destinations in Greece and a cosmopolitan for celebrity spotting, idyllic landscapes, lively nightlife, and boasts one of the best and biggest ski resorts in the country.
TV Presenter & Journalist, Marietta Chrousala, claims "Arachova means nightlife, winter sports, and good food!" No one should ever leave Arachova without trying their local specialties, such as the handmade pasta and Formaela cheese, which is made by producers in Central Greece, from traditional sheep's milk.
Hidden Gems: National Trail 22, 'Unknown'  Parnassos and its secrets, The Panagyraki Of Arahova.
Where to Stay: Hotel Paransassos, Nefeles, Elafivolia Arachova Suites.
Where to Dine: Taverna Christos, To Arhontiko, To Tsoukali.
3) Florina
Even the Mediterranean sun needs a break during the colder months to allow for the magic of winter to blanket the villages with its seasonal sparkle.
Florina is one of those lucky cities in Greece that has the chance to flaunt its natural beauty the most during winter. Located in Northwestern Macedonia, Florina is considered the "land of the lakes" with six prominent lakes surrounding its landscape.
Florina is truly a picture-perfect, stone-built city that even the most renowned director Theo Angelopoulos considers to be his favourite film-making spot.
Travelers to Florina can expect to enjoy amazing architecture, with houses reflecting elements from the 1930's, ranging from neo-byzantine to art deco.
Hidden Gems: Archaeological Museum & River Sakoulévas
Where to Stay: Boutique Hotel Philippion & King Alexander Hotel
Where to Dine: Terpsi, Aposperiths, Kontosoros
Ready To Book?
With Beforeifly, we are your very own online travel concierge! Call one our live agents to learn more and enjoy the best deals! Book a winter vacation of worry-free travel.  Contact us today!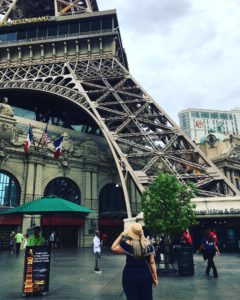 About The Author:
Nicole Zoe Singh is the Administrative Assistant and Blog Writer at Beforeifly Travel Centre.  Nicole has a background in journalism and has written publications for Anokhi Media.  Her number one passion is writing, although she also adores everything to do with photography, fashion, and travel!