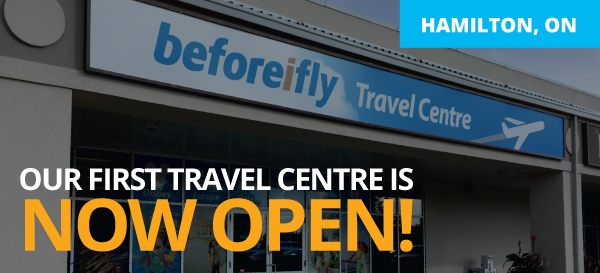 Discover the Beforeifly Difference
Love to travel but have a frenzied day-to-day schedule that makes it hard to plan and book your flights? No worries. At Beforeifly, we offer online travel booking. Our online services cater to busy travellers who are always on the go. You can use our downloadable app to check in to your flight from just about anywhere – even from home! Booking online allows you to simplify your travel and save time and money. Take advantage of our worry-free travel with no booking fees and plan your next getaway.
Plan Ahead: Travel Booking Made Simple
Beforeifly is a new, innovative, 100% Canadian travel agency offering complete vacation booking…we are your online travel concierge! Our app allows you to customize your travel with personal check-ins and seat selections. Upgrade your seat and check-in to your flight at any time and avoid the dreaded long lines at the airport. Our app can also help keep all of your travel and flight information together with all documents accessible right at your fingertips! Download the app when you book and we will send you:
Embassy contacts
Rules and regulations of each respective country
Travel destination climates
Dedicated to Creating a Positive Travel Experience
At Beforeifly, our team is dedicated to making your travel simple – whether you're an experienced, busy traveller or a first time flyer. That's why we will send all entry requirements and other information specific to your travel destination directly to you via email or through our app. If you have obtained all of your necessary Visas and documentation as required and are denied entry upon arrival with documents in hand, Beforeifly promises to refund your ticket price.
When it comes to travel, Beforeifly is the difference between a smooth, hassle-free flight and a hectic one! Book your flight today.
With low airfare rates and no booking fees, Beforeifly is your first choice in online travel booking. Don't be left off of your flight or stuck in an unwanted seat, sign up with Beforeifly today and see the difference we can make!
Dynamic Packaging Coming Soon!
Your one stop shop for all of your travel needs. Book your flight, hotel, and car rental together to save money and stay organized.



The agent was professional and helpful. Gave me great tips on my New York trip.

Lina T.

Amazing Customer Service
Beforeifly agent arranged all details for my elderly father in law's travel. From wheelchair at the airport to pickup at the hotel!

Kathy

Great Assistance
Best pricing on flight and no hidden fees.

Jamie

Great Prices!